Tampa Bay is 2-0. Let me say that again. The Tampa Bay Buccaneers, who has one Josh Freeman has a quarterback, is 2-0. What? They are not the only thing that should be surprising NFL fans. This article is kind of a crazy one. My thoughts on the past week have been all over the place. Like I have some huge, in-depth feelings on a few subjects, but on others, I may only have two or three sentences. But I feel strongly no matter what, whether it is 12 words or 120 words. I am going to divide this article into three or four sections. Yeah, I am not really sure yet on how many. Good thing I barely get paid for this. First, we will start off with the teams that need to panic. Like sound the alarm, take cover panic. Second, I will examine why LaDanian Tomlinson has suddenly become a bigger jackass than Terrell Owens and Chad Ochocinco combined. Finally, I will offer random thoughts about this weekend, which has had me all over the place.
I. To Panic or Not to Panic
New England Patriots- Panic Level: 3
The Patriots, after a great game last week where they dismantled the Bengals, looked awful o
n Sunday. Disregard Randy Moss' absurd one-handed catch, and it was an extremely dull game for Pats fans. They had trouble passing, trouble running, and they could not stop the Jets pass rush. On defense, they made Mark Sanchez look better than Akili Smith, which is extremely hard to do. I wonder if Pats fans knew that Sanchez threw for 74 yards in Week 1. When a team has trouble stopping Sanchez through the air, this should be a red flag as far as a secondary is concerned. Plus, I have to hear how great the Jets are for the next week on sports radio and from snarky Jets fans. That is the worst thing of all.
Minnesota Vikings- Panic Level: 5
The Vikings should be in full-on crisis mode. This means sound the alarms and reinforce Sidney Rice's knee with titanium. The Vikings have looked, at best, dreadful on offense. They have scored 9 and ten points, respectively this season. Or irrespectively, if you are a Vikings fan. Honestly, Sidney Rice's return in Week 8 means almost nothing in this point. By then, the Vikings will be so far out of any playoff race to even care. They need action, and fast. Whether that is relieving Brad Childress of playcalling duties (Vikings fans might want to relieve him of much worse) or signing Vincent Jackson in the next few weeks, they need to do something. I have had the misfortune of having the Vikings in two featured network games in a row, and it has been extremely painful. If I have to see another game in which there are more Brett Favre commercials than actual points, I may cancel my subscription to network TV. I do not need to see Brett Favre look more out-of-sync than a 70-year-old man listening to gangsta rap for the first time (Maybe mini-camp was necessary). The Vikings are beyond doomed at this point.
Dallas Cowboys- Panic Level: 4
I am not sure if the Cowboys are in as bad as a position as the Vikings (The Cowboys at least showed forms of life sometimes during Sunday's game), but they still look awful. They let Jay Cutler tear them to shreds like Jeffery Ross at a Comedy Central Roast. Cutler is usually just Lisa Lampenelli (She sucks). If the Cowboys were to not have a fire start under their asses next week, and were to somehow lose, Wade Phillips will be gone. They are wasting such talent on offense and defense by not deciding what type of team they want to be. They have a really good running game, but they only rushed for a little more than 30 yards against the Bears, and never made any real attempt to establish a running attack. Instead, they threw the ball around insanely. Actually, reading those last two sentences back, it seems like they should try to identify themselves differently really. Oh, and by the way, Roy Williams should really stop complaining about not getting the ball enough. If you are going to cough the ball up/drop passes every time the ball comes within 20 yards of you, you have no business even playing
professional football.
Cleveland Browns- Panic Level: 2
For any other team, this would be higher. But if you are Brown fan, you knew this year was going to be horrific coming into the season. I would say the only reason it is a 2 and not a 1 is because Seneca Wallace is your quarterback, and he should probably be playing wide receiver for an Arena Football League team. Good God.
Baltimore Ravens- Panic Level: 3
The Ravens barely beat the Jets, and could not beat a Cincinnati team who has not impressed me once this season. They are definitely not as dominate as I thought they would be, and they are no way "The Team that Scares me the Most". In other news, this is fantastic news for the Steelers! Baltimore barely seems to function offensively, although their defense still has looked solid. Joe Flacco is also having a bust season in what was supposed to be his breakout year.
Carolina Panthers- Panic Level: 4
This team was supposed to be a contender this year (Although a quick search in my archives in my NFL preview shows I never believed the hype. Aren't I awesome?) and was picked by some to win ten games. They just finished being dismantled by the Buccaneers who, although are 2-0 (See beginning of column) are probably going to fade away after they face teams that are not projected to finish with 4 wins or less (Browns, Carolina). Matt Moore has been nothing short of fantastically awful and now Jimmy Clausen is set to start on Sunday. Who knows, maybe this will help? Probably not.
San Francisco 49ers- Panic Level: 3
They are 0-2, but Alex Smith played surprisingly well last night against a really good Saints team. He was able to institute a pretty solid 4th quarter comeback, that while it did not resemble Montana or Young, it came close to Jeff Garcia's finest moments. I thought that first loss against the Seahawks was going to kill them. But the division is still very weak and they played inspired football last night. The Niners should not be happy with 0 and 2, but they will have better times to come.
Detroit Lions- Panic Level: 2
Detroit could easily be 2-0, but a serious of dumb decisions and falling behind too early, has dropped them down to 0-2. They need Stafford back, but Detroit really should be kind of happy with the start. Honestly, did Detroit fans really expect a playoff season this year? They have looked decent so far, and far better than I think anyone thought they would be.
Kromartie's Kidz- Panic Level: 6
Abandon ship! Run for your lives! Call the American Embassy! My second fantasy team has done nothing short of spontaneously combust at this point. I am almost considering taking them out of their misery.
II. This Week's Bad Role Model: LaDanian Tomlinson?
Yes, LaDanian Tomlinson, one of the NFL's model citizens, has disgusted me with his play on the field. The only thing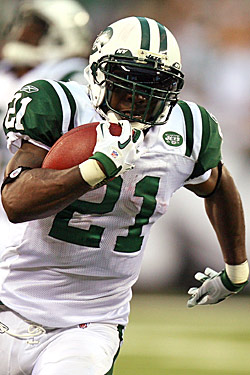 is, he is not disgusting me the way I thought he would. I assumed that LT would play this year washed-up and maybe get on the field a handful of times. He had other ideas, and is now getting the majority of the carries for the New York Jets. Good for him. My problem with him is, that he goes mentally insane after he has any rush longer than 6 yards. He slaps his head, jitterbugs down the side, and does everything short of Ray Lewis's introductory dance. He is embodying the art of showing up an opponent better than anyone since Mark Gastineau. Tomlinson is making a fool of himself. Now can somebody go tell LT I feel this way?
Look, I know he wants to prove to a league and fanbase that has written him off, that he still has an extra step. But a guy who reminded us all of his uncanny politeness on the football field, the way a guy like Erik Dickerson or Barry Sanders would, is now embarrassing himself. It is almost kind of sad to see, him losing his grace on the football field showboating menial runs. Good for you, you made it 2nd and 4. Can you just go take a seat, or something?
III. Random Thoughts from Week 2
What is going on Chicago? Mike Martz has brain activity again as the Bears offensive coordinator, and Jay Cutler no longer worries fans that he is drunk while playing Quarterback.
Since when did America officially change Matt Ryan's nickname to "Matty Ice"? Did I miss something? He now sounds like a type of crappy beer rather than an NFL quarterback.
The Dolphins are 2-0, and leading the AFC East. Just like I predicted. Compliments can be emailed to me, thank you.
Michael Turner put out another poor game, and left early because he "tweaked" his groin. Worst fake 53 dollars I have ever spent.
On Mike Vick: I know Eagles fans will be calling for Vick to start every game from now on. But don't you think Andy Reid knows this too, and wants this to happen? In the back of his mind, he knows Vick is better than Kevin Kolb, and if he doesn't he should be fired. But he has to at least give Kolb 2 or 3 more starts. Kolb wilted away on the bench for the past few years, waiting for his chance. Now, you are not going to start a guy who has patiently waited because he played one bad quarter, and the backup quarterback was able to light up the Detroit Lions. You promised this guy a fair chance. Now this may not seem relevant, and may even seem 5th grade. If you do believe this, you are probably some immoral bozo who has no idea who he is talking about. (Deion Sanders tried to say that the promise meant nothing, last night on NFL Gameday. Can we please reassign Deion Sanders to somewhere where he does not have to embarrass any network he is at with his stupid and uneducated comments? I do not think the NFL Network has a weatherperson.)
The Pittsburgh Steelers are 2-0. Not to be a cocky homer, but we are awesome. They have just finished their toughest two game stretch of the year, and have dominated on defense. We could put Antwaan Randle El in at quarterback, and still win. The Steelers allowed 9 points against Atlanta their first game. Atlanta would score 41 in their next game. The Steelers only allowed 11 (?) points to the Titans on Sunday, who had scored 38 the previous week. Enough said.
Now, if you have not stopped reading because of my unabashed homerism, allow me to briefly comment on Vince Young. Jeff Fisher is an absolute idiot for taking Young out. The Titans did not do much better with Kerry Collins at quarterback. Young was facing one of the best defenses in football. Without Young saving your season last year, Fisher, you do not have a job. You owe it to him to at least let him stay in a 10 point game in Week 2, for God's sake. Young already has one of the worst psyches in football, you are just ruining his confidence. A pure boneheaded move from Jeff Fisher.
In my NFL Picks: I went 8-7 in my column picks (which had to be moved to Twitter). I somehow, again, went 10-5 in my Pigskin Pick 'Em. You know what, here is the link for that: Pigskin Pick 'Em. Ah, the wonders of not knowing what you are doing.
Brendan O'Hare writes two to three columns a week for his website: www.theatticfan.blogspot.com. You can also find him on the popular sports website: www.yardbarker.com. Follow Brendan on twitter: www.twitter.com/theatticfan