Steelers.
Ravens.
AFC Divisional Playoffs.
Why did this have to happen?
If you are a die-hard Steeler or Raven fan, this is not the matchup you wanted. Personally, I would rather have the Steelers play the Patriots in this round. Why else would I so adaman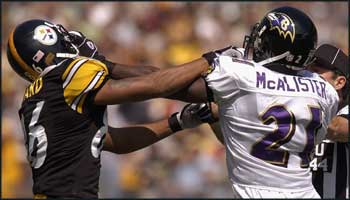 tly root for the Kansas City Chiefs last Saturday, yelling at my TV as they continuously ignored running the football, when JaMaal Charles was averaging over nine yards a carry (The one time they do run it, they try a half-assed sweep to the right on fourth down that is stopped about five yards in the backfield. This leads to the conclusion that Todd Haley has no idea what he's doing, or that Charlie Weis threw the game out of disgust with Haley. I am going to guess the latter.)
Why would I want the Steelers playing a team that destroyed them at home last time, instead of the Ravens? What kind of sadistic person would wish for that? Me, and all the other Steeler fans out there. Steelers versus Ravens games are all-out wars. I know, shocker. But there is a 100 percent chance that someone will seriously get injured in this game on either team. Last time, Heath Miller got smashed with a concussion, Ben Roethlisberger had his nose broken, and a variety of other small injuries took place. It is pretty much inevitable that we will see some kind of debilitating injury.
Odds On Who Will Get Hurt:

Troy Polamalu: Even
Ed Reed 5-2
Brett Keisel 7-1
Haloti Ngata 15-1
Heath Miller 25-1
Ben Roethlisberger 35-1
Joe Flacco 40-1
Shaun Suisham/Billy Cundiff 1000-1
And why would I want that? Why would I want the Steelers to show up, crippled and semi-conscious against the Patriots in the AFC Championship game? This just is not a good set-up for either the Steelers or Ravens this early in the playoffs. These games, as I said before, are flat-out battles.
That being said, it is tough to tell who has the advantage in this game. As an unabashed Steelers homer, I am obviously inclined to pick the Steelers. And will. But for the rationally thinking sports fan, this game is really a toss-up. Let's look at the past 4 games these two teams have played, dating back to last season:
11/29/09- Baltimore 20 Pittsburgh 17
This was the game where Roethlisberger was hurt, and Dennis Dixon had to start in his place. Dixon did not play horribly, he went 12-26 with 145 yards. Actually, those are awful num
bers. But he played well enough to keep the Steelers in the game, and should have won if not for a late-game interception and atrocious play-calling by Bruce Arians. Arians forgot that Dixon could be used outside the pocket, and instead tried to have him throw his way to victory. Dixon is best when he is allowed to move around, which should have been obvious to anyone with at least 50% brain activity. But no! That was situation number 216 where Arians messed up. I am just talking about that season, too. Why else do you think Rashard Mendenhall would have punched him in the face this season? Conspiracy theory link here!
12/27/09- Pittsburgh 23 Baltimore 20
Ray Rice was able to tear up the Steelers for 141 rushing yards in this one, in one of the most uncharacteristic games in Steelers defense history. They were able to neutralize the pass, but had their pants down against the rush. Still, Jeff Reed managed to get his act together long enough to kick the game winning field goal. If Bruce Arians is my least-liked Steeler of the past decade, then Reed was second. Max Starks was third, closely followed by Flozell Adams. Dick LeBeau is in last.
10/3/10- Baltimore 17 Pittsburgh 14
Once again, this was a game without Ben Roethlisberger. In fact, we had our FREAKING FOURTH STRING QUARTERBACK (excuse the caps) playing. Before Ravens fans get too cocky, let me remind you that your win this year against us was a three point win against Charlie Batch & The Gang. If it wasn't for faulty pass defense in the final two minutes, the Steelers win this game. Unfortunately, Joe Flacco, for the first time in his recorded life, came up clutch. He threw a game winning touchdown to T.J. Houshmandzadeh. Whatever.
12/5/10- Pittsburgh 13 Baltimore 10
A classic Baltimore/Pittsburgh game, where it came down to the wire and numerous players got hurt. This was the famous "Broken Nose" game, where Big Ben bounced back from being brutally punched in the face by Haloti Ngata (Which was not a penalty for some reason. A guy breaks something, which eventually needs surgery, and there is no penalty. Yet, James Harrison is not allowed to be within 15 feet of a quarterback like he is under some sort of restraining order. Sweet Jesus). Ben led the Steelers down the field late in the fourth quarter, eventually throwing a short pass to Isaac Redman who promptly went into beast mode and scored. Think of Redman's touchdown as a junior version of Marshawn Lynch's on Saturday. Oh, by the way, Troy Polamalu had a game saving strip of Flacco (who reverted back to his usual fourth quarter self). What else is new?
A few things stand out from these four games:
1. All 3 are decided by 3 points.
2. Hines Ward mysteriously disappears in every game, having only 10 catches for 111 yards over four games. It seems usually as if the slot reciever ('09 Santonio Holmes, '10 Mike Wallace) has the better game (18 catches, 260 yards, 2 touchdowns)
3. The away team has won every game.
4. Roethlisberger has only played in half of the games, and the Steelers have lost both times.
The good thing is, the Steelers have gone 3-1 following games against the Ravens the past two season. Of course, they had a bye week for one of those games, and played the Browns, Bengals, Raiders, and Dolphins following the Ravens.
They do get banged up in these games, and against the Patriots, you need all the help you can get.
Anyway, I have to say that the Steelers have the advantage in this game. Even though they are home and that usually is a bad thing lately in this rivalry, they should win. With a healthy Polamalu and Ben Roethlisberger, the Steelers should win by at least 60 or 70 points. Okay, maybe not that much.
Ravens v. STEELERS (-3)
******
On to the rest of the picks…
GREEN BAY (+2) v. Atlanta
I know the Falcons are "unbeatable" at home. But as I said last week, I just feel as if something is missing with this team. Green Bay looked decent last week, and was able to go into Philadelphia and literally kick the crap out of Michael Vick. Green Bay is the consensus pick, and was The Attic Fan's non-homer Super Bowl pick at the start of the season.
I actually think that Green Bay being away is actually an advantage. They are a fast-paced team that thrives off of the deep threats of Greg Jennings and the rest. Matty Ice should lose that nickname on Saturday, and make me the happiest boy in the world. I really hate that name.
Seattle v. CHICAGO (-10)
I don't think that Seattle can even come close to covering this spread. There is no way that Chicago will give up 41 points, and without the "12th man", Seattle should be an absolute mess. This should be a laugher.
New York (+10) v. NEW ENGLAND
Although I do think that the Jets will cover the spread, New England should win this game pretty easily. Look for a 31-7 game entering the fourth quarter, with the Jets getting a crappy bac
kdoor cover.
Quick note to Antonio Cromartie: Please be quiet. You are one of the worst cover corners in the NFL ( as evidenced by your getting burned Saturday night by the Colts' Pierre Garcon). How are you going to mock the Patriots after losing by 42 points the last time you played them? You, sir, are dumb.
The Jets incessant mocking of the Patriots is kind of like if the Japanese continued to talk smack with America after the end of World War II. We know you won the first few battles, but we just dropped a freaking atomic bomb on you. Shut up. Luckily, this never happened with Japan, and we have been close buddies ever since!
******
Here are my little brothers' picks, who at 12 years old, know a decent amount of football.
Brendan versus The Boys (Playoff Edition)
Baltimore v. PITTSBURGH
Green Bay v. ATLANTA
Seattle v. CHICAGO (Seattle to cover spread)
New York v. NEW ENGLAND
My record last week: 3-1 regular, 2-2 spread
My brothers record: 0-0. This is a new gimmick, people!
Brendan O'Hare writes The Attic Fan column for http://www.theatticfan.blogspot.com/. Follow him on twitter @theatticfan. Any questions/comments/emergencies can be directed to theatticfan@gmail.com